**Update: 1,300 more filtration systems Have been distributed by grassroots groups supported by kite4water.
We are seeking funding to return to puerto rico and assist communities + shelters in the most remote regions of the island.
our teams Have returned from the field. The time to act is now, we need as much support as we can in order to slow this developing and compounding disaster.
We have many people stepping up to help with the difficult task of distributing these filtration systems in a disaster zone.The manufacturer of the filters has cut prices down by close to 60% during this crisis, allowing us to purchase that many more! Filtration systems should only cost approximately $20 each at this time (including the plastic bucket), then we have to pay for shipping to the island, where we have a secure private residents to store the filters for incoming volunteers to pick up.

All Donations are tax deductible
EIN: 47-5311156
 
SAWYER POINTONE WATER FILTER
ONE filter has the potential to bring a family household 20+ years of clean water, the technology is so new, we do not know exactly how long a filter will last.
OR
In disaster relief situations each filter can yield 500+ gallons of water per day.

Highest Filtration Rates Available
At 0.1 micron absolute, it is impossible for any bacteria, protozoa or cysts to pass through the filter.
With the technology derived from kidney dialysis, Sawyer worked with a fiber manufacturer to actually improve the hollow fiber membrane technology. In order to improve both the filtration rates and longevity of the filter, they needed something even more precise and rugged. The fiber composition had to deliver exactly 0.1 & 0.02 micron filtration 100% of the time to ensure no bacteria would get through, and the membranes had to be sturdy enough to withstand backwashing which allows the filter to be cleaning and reused.
Fast Flow
Since there is such a high flow rate, this eliminates the need to store water which reduces the chances of water being contaminated after it is filtered. The only external force required for the system to function is GRAVITY. The flow rate of a filter is determined by a combination of:
Head pressure (The distance from the top of the water to the filter)

Altitude (The higher the altitude, the slower the flow rate)

How clean the filter is

The filter itself (there are slight variations between filters)
Long Lasting
Maintenance of this filter is very simple. When the filter starts to slow down or clog, simply back wash it with clean water using the syringe provided in the kit. Since the filters can continuously be back-washed and re-used, they have an extremely long life expectancy. The ease of operating this system makes it self-sustainable and dependable.
Multiple Applications
These filters and purifiers make water so clean and accessible that people will not only use the filtered/purified water for drinking, but also for cleaning, bathing, cooking, watering plants and more.
Natural Disasters
The bucket system is essential for aid in natural disasters. This system would eliminate the need to ship bottled water.
Community filters are $50 (not including shipping) and will provide enough clean water for 100 people per day. If maintained properly, they will last for many years.

These are solutions we can implement NOW, not 6 months or 1 year from now.
MOST RECENT INFO COMING OUT OF PEURTO RICO
More than a week after Hurricane Maria ravaged Puerto Rico, nearly half of its residents still are without drinking water.
At least 44% of the island's residents don't have access to potable water, according to the Defense Department.
Gov. Ricardo Rosselló told CNN that crews are trying to restore water supplies for residents. But it hasn't been easy.
"In terms of aqueducts, we have been able to restore only 50% of water, because the majority of water in Puerto Rico also depends on electric generators," he said on Wednesday.
Generators need fuel, which is on short supply.
Elí Díaz-Atienza, executive vice president for Puerto Rico's Aqueduct and Sewer Authority, told San Juan-based WKAQ radio the island's water facilities were significantly damaged during the hurricane. He said his agency was working to water distribution sites for residents. Díaz-Atienza said his water restoration plan includes using trucks to deliver water to residents in the island's rural areas.
.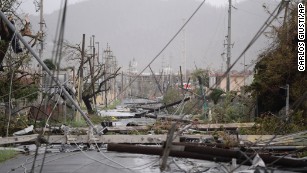 "We understand the frustrations of the people… We would love it if everyone had water right now," he told the radio station.
As government officials work to rebuild water systems throughout the island, the water situation has become dire with each passing day.
The World Health Organization says a lack of safe drinking water and suitable sanitation could lead to significant health risks, some of which include diarrhea, hepatitis, malaria and malnutrition.
After a natural disaster, the Centers for Disease Control and Prevention advises residents to listen to the local officials to find out if their water is safe to drink. The CDC suggests boiling water, using disinfectants or a filtration system to sanitize water.
The CDC says bottled water is the safest choice.
Although water and food supplies have been delivered to residents stranded on the island, San Juan Mayor Carmen Yulín Cruz told CNN more can be done.
She said thousands of shipping containers with food, water and other supplies are sitting at the Port of San Juan due to "a jurisdictional situation."

FEMA Director Brock Long said supplies are arriving in Puerto Rico, but delivering them to cities is the issue
The hurricane wiped out roads and devastated the island's airports and shipping ports, which he said is hampering delivery efforts. The federal government, Long said, has established distribution sites and is conducting airlifts to distribute supplies.
"It's not just possible to pick up the supplies and move it forward," he said. "That last mile is a coordinated sequence process to be able to get to the points of distribution … As the supply chains come back online, we will be able to increase the amount of supplies that are going. But listen, we are not going to be able to move as fast as everybody would like us, or as I would like. But we are pushing everything that we have."